We know how overwhelming it often is to plan out everything by detail, especially when it comes to planning your trips to foreign countries. That's why we have not only provided a list of itineraries for you in our previous blog post, but Travel Out There has also prepared a travel package – you can choose to participate in both days, or just choose one of these 2 days. This post will give you an insight on Saturday's party package. Click here to see the offer for Friday.
SATURDAY | 5TH OCTOBER | EXPERIENCE RIGA NETWORKING PACKAGE | €140
Wacky Races
You will receive:
CITY CODE GAME WITH A WACKY SIDE!

Orienteering game played around Riga

Teams of 3 people per car

English-speaking Event Manager

All technical equipment

Technical support during the event

Tailor-made route

Medals for 3 best teams
If you want to have a slightly different experience from your days in Riga, we have something to offer you! Wacky Races is an orienteering around the city with checkpoints where you have to do easy photo/video tasks, while driving with our small but awesome cars.
We create route considering what you want to see – would it be typical Riga sightseeing views or some more underground places known by locals. In addition it is not just a tour but a competition between the teams. For finding and completing each location/object/sight teams get points and after the finish, we collect the results and congratulate the winners.
All tasks must be captured in photo or video, so you also will have awesome and fun memories saved in your phones.
Usually we start and finish the event at our event venue located next to the Riga City Centre but of course it is possible to start and finish in any other location you wish (car delivery & pick-up charge applies). Wacky races activity takes around 3 hours.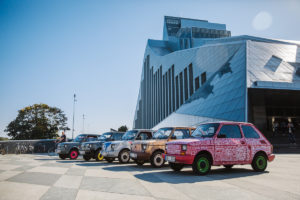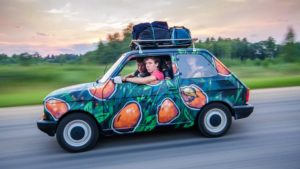 Latvian Degustation Experience
You will receive:
SAMPLE LATVIA'S LOCAL CUISINE WASHED DOWN WITH SOME FINE ALES

English-speaking guide

Best Latvian beer tasting

Local snacks
How better to understand the culture and taste of the nation than by sampling the local brews? Latvia is famous for its wide selection and very tasty beers….experience them for yourself on our Best Latvian Beer Tasting experience.
4 best Latvian beers and a national dish – grey peas in special bacon gravy and snacks from four of Latvian provinces representing each of them. Total time of the degustation takes approx. 2 hours.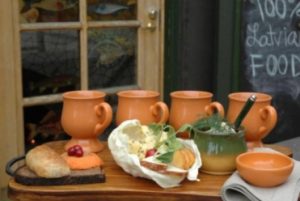 Curling
You will receive:
Classroom Curling Tuition & Instructors
2 Hours Ice Time
Professional Curling Instructors
English Speaking Guide & Transfers
WANTING AN INCREDIBLY FUNNY BUT COMPETITIVE EXPERIENCE? Now you can slide a stone down the ice while your friends sweep it frantically in to position. Huge amounts of laughs, thrills and spills with this sport! It may surprise you, but curling is actually one of our most popular winter activities, check out some of our customer reviews.
Curling is, without a doubt, one of the most underrated sports at the Winter Olympics. Maybe it does not get your adrenaline pumping, and is not as extreme as some of our other Out There activities, but if you want to embark on an activity that requires skill, agility and team work….curling is for you!
With the balance of a gymnast, the grace and elegance of a ballet dancer and the power of a sprinter – all required – Curling has it all.
We will give you all the equipment and an instructor to teach the basics before it's match time and your chance to team up and play for bragging rights in a one-off game, or have your own mini tournament.
Included in our offer:
curling rink rental for 2.5 hours (1 or 2 sheets depending on the number of persons)
theoretical tuition at the meeting room with video and a presentation in Latvian, Russian or English – 20 minutes
practical tuition on ice – 40 minutes
a practice match and a mini tournament among participants – 1.5 hours
instructors during the entire event (1 or 2 instructors depending on the number of sheets)
equipment (brush and slider) for all participants
hot tea at the rink
an option of bringing own food and non-alcoholic beverages
a 10% discount for beverages at the bar
wireless internet
Total duration of curling activity takes around 4 hours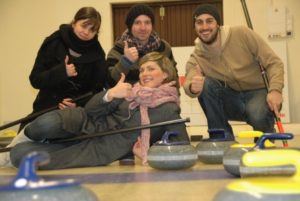 Andalūzijas suns
You will receive:
3 course meal
1 drink included
Andaluzijas Suns is a modern café & bar for all tastes and is located in the heart of the city – charming place Berga Bazars.
Cosy, contemporary rooms and a spacious outdoor terrace opened during the summer season and warm months.
Every gourmet can choose the favourite meal – from burgers, fresh and light salads to Mexican cuisine and delightful main courses. The menu is regularly supplemented by variety of seasonal offers and trends.
On working days available business lunch, the offer changes every day. The bar is unique with its gin collection which is the biggest in Latvia – more than 90 gins from 14 countries. Gin tastings, gin cocktails of different styles, home-made lemonades and other refreshing drinks – everyone will find the most suitable!
Andaluzijas Suns – a place where your smile wakes up!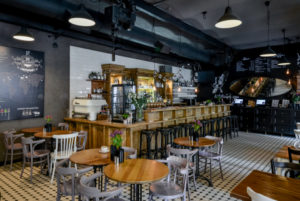 To check out these and other remarkable Travel Out There incentives visit
www.traveloutthere.com